Valkyries Fall
Skills
Skills
You can view your character's skills in the 'arm' tab on the right side of the screen.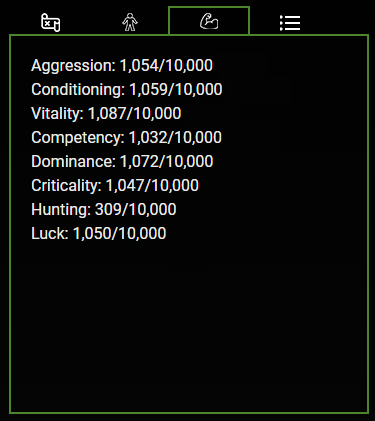 Aggression
Improves minimum and maximum damage equally


Conditioning
Improves your defense
Builds on defense gained from armor


Vitality
Competency
Increases your minimum damage
At max skill, min/max damage will be the same


Dominance
Increases your maximum damage


Criticality
Improves your chance to score a critical hit
At max skill, grants 80% critical chance per round


Hunting
Gained by attacking beasts
Increases your chance to publicly spawn a beast


Luck
Increases your chance to gain skills
Increases your chance to find diamonds from normal enemies


---

Your character gains skills randomly by attacking monsters!
You may also improve your skills by killing certain beasts, such as the Eir Valkyrie.